Ecco alcune immagini della prova:
Continua in modo straordinario la campagna cinese della Valcar-PBM al Tour of Chongming Island: infatti dopo il clamoroso terzo posto nella tappa di ieri conquistato da Silvia Persico è arrivato anche un quarto posto a sorpresa raggiunto grazie alla bravura di Dalia Muccioli. "Mi dispiace per il mancato podio in una gara World Tour" commenta a caldo la romagnola, già...
Due giorni da incorniciare per le eliteValcar-PBM dirette da Davide Arzeni e Matteo Filipponi che conquistano due risultati prestigiosi negli ultimi giorni. A scrivere una pagina storica per il team orobico è Silvia Persico che nella prima tappa del Tour of Chongming Island (Cina) conquista la terza posizione nella gara World Tour vinta da Giorgia Bronzini.Questo risultato è storico,...
Ecco alcune immagini della prova:
Continua il processo di crescita delle giovani atlete Valcar-PBM che in una grande classica come la Freccia Vallone hanno corso con una maturità tattica da "veterane" e hanno poi raccolto un prezioso quattordicesimo posto con la scalatrice AsjaPaladin. La sensazione che AsjaPaladin avrebbe potuto fare bene era già arrivata domenica all'Amstel Gold Race quando sul Cauberg teneva alla grande il...
https://www.youtube.com/watch?v=PFJB_hdpli0
Ecco alcune immagini della prova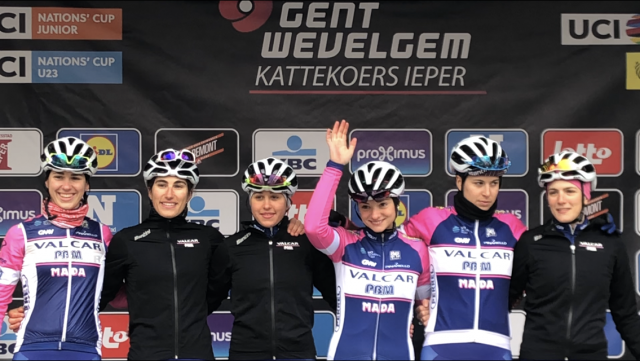 Ecco alcune immagini della prova: