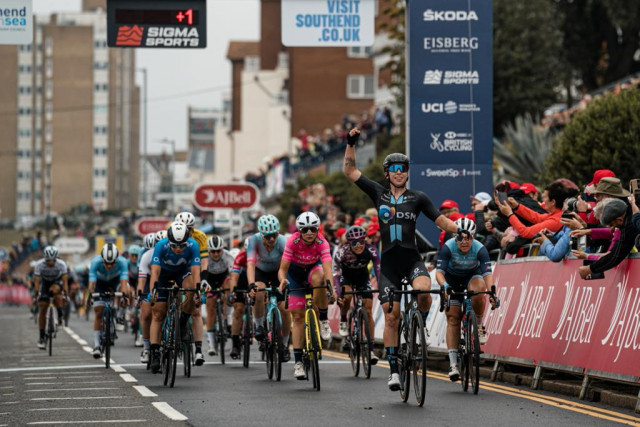 A prestigious podium for Chiara Consonni from Bergamo who, in the fourth stage of the AJ Bell Women's Tour, won an excellent second position behind the Dutch sprinter Lorena Wiebes. A breathtaking sprint expertly prepared with the teammates Ilaria Sanguineti and Elisa Balsamo who collaborated for Chiara's sprint.
"Today we focused on Chiara Consonni – says Davide Arzeni, Valcar – Travel & Service' d.s.- congratulations to Wiebes on winning this fourth stage. Today we did our best and I have to thank my athletes: Chiara had a good sprint, Elena Pirrone and Margaux Vigié worked well during the race, Ilaria Sanguineti and Elisa Balsamo were good at helping Chiara in the final. In particular, Elisa's willingness to run for Chiara should be emphasized: for a d.s. it is not easy to ask to such fast world champion to be at the service of a teammate. But Elisa has once again shown availability and a sense of team: this is the secret of our wonderful group. In the next stages we will reverse the roles and focus on her in the hope of being able to win, even if it will not be easy. I'm happy with how it went today, the regret was in the first two stages: in the first, Chiara fell, in the second we were not ready to enter the final escape. "
A second place that once again attests the skill of Chiara Consonni who will wear the Valcar – Travel & Service jersey for another two years. But more good news came from Switzerland for the Bergamo team: in Grenchen Martina Alzini in fact won a silver medal at the European championships in the team pursuit together with Rachele Barbieri, Martina Fidanza, Letizia Paternoster and Silvia Zanardi. The gold went to Germany who fielded three of the four reigning Olympic champions.