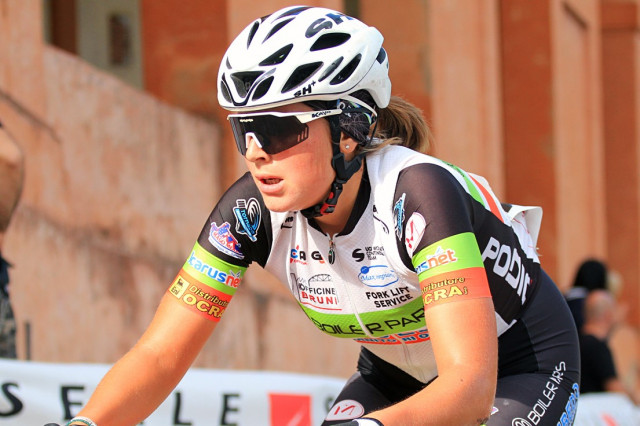 Another important addition to the Valcar – Travel & Service team for next season. After the arrivals of Lizzie Stannard and Karolina Kumiega, an Italian athlete will wear the fuchsia shirt in the team headed by Davide Arzeni. This is Anastasia Carbonari from Marche, a girl born in 1999 who used to be part of Born to Win team last year and who next season will enrich a roster being defined for the beginning of the new year.
"It seems trivial to say, but racing in such a team is a dream come true – explains Anastasia Carbonari – because this is an organized team that does a lot of activity abroad. When I have been informed about the possibility, it was an amazing. I will do my best to be up to par with such a team, I will try to give my all and gain experience. "
Desire to do well, enthusiasm and a very particular is what characterise Anastasia Carbonari. She is enrolled in the Faculty of Political Sciences at the University of Macerata. A youngster who lover TV series and spending free time with friends. The athlete from Montegranaro also has a good command of languages, since he knows Russian (learned from his Latvian mother) and studies English, German and French.
A ductility that demonstrates Anastasia's stubborn character. As a junior she was able to hit a double Top Ten at the Italian championships both on the road and in the time trial and then later as an elite, she has always distinguished herself by competing with personality in the various open races. A key episode was the bad fall she had in 2019 when she was invested in training resulting in a fracture of a lumbar vertebra: an accident she manged to get through.
"In the year of Covid I raced in Vaiano and competed abroad, but I was not ready for that 'leap' – explains Anastasia – in 2021 I returned to Born to Win where Roberto Baldoni welcomed me back into his team; I will always be grateful to him for what he has done for me over the years. Then, as I said, when I learned of the possibility of racing for to Valcar – Travel & Service, it was like a dream that came true. Today I feel much more self-aware and I want to do my best by just focusing on cycling. This season I want to understand how far I can push myslef and if I can really cycle at a high level. "