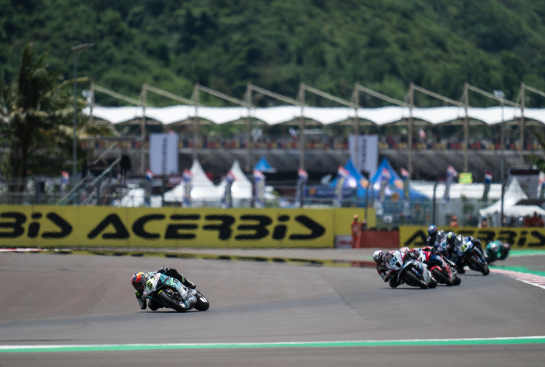 This track, this place, just doesn't want to be kind to Team Go Eleven. When the Piedmontese team seemed to have found the right way, and Philipp was ready to fight in the Top Ten, a rider in front crashed and the number 5 was unable to avoid his bike! Zero points, but we have to take advantage of this Sunday, where the German rider showed aggressive overtaking and with a pace in line to fight for the important positions.

Today's Warm Up was a particular session; the track had still wet patches due to the rain that fell during the night, but the lap times were still fast and competitive. Many crashes broke up the session, Philipp Oettl tested the SCQ with a view to the Superpole Race, but after two laps it was completely destroyed, without providing an extra advantage in the first laps. Mandatory choice on the SCX-evolution for the short race.

Warm Up: 
P 1   A. Bautista   1.32.368
P 2   J. Rea  + 0.081
P 3   A. Locatelli   + 0.279
…
P 16   P. Oettl   + 2.372

The real switch of Go Eleven's weekend was in the Superpole Race. Philipp immediately felt good, at the start he found himself close to tenth position thanks also to various contacts. The red flag stopped the race, allowing several riders who had crashed to return to the garage and restart. Restarting from 15th position, he didn't find an excellent start, so much so that he ended up eighteenth. With only eight laps available it was difficult to comeback, but with an excellent pace he moved up to thirteenth, chasing the group made up of Gerloff, Petrucci and Aegerter. Several laps on 33, a much better race pace than yesterday, which created higher expectations for Race 2.

Superpole Race: 
P 1   T. Razgatlioglu   12'26.052
P 2   A. Locatelli   + 1.110
P 3   A. Lowes + 1.372
…
P 13   P. Oettl   + 10.592

In Race 2 Philipp got off to a good start, defended his position and got into Aegerter's slipstream. He tries to attack in Turn 10, goes wide, but the feeling is there. As the laps go by, in front, the fight ignites, and the number 5 is in the group fighting for the Top 9, with many riders inside. He overtook Lowes and Aegerter, but on lap seven, turn eleven, Van Der Mark was the protagonist of a scary highside. Philipp, who is chasing him from very close, finds the motorbike bouncing in front of him, but he cannot avoid it. Luckily the impact was at low speed, but in any case the German rider hit his bike hard and, also given the damage sustained to the Ducati, was unable to restart. It's a shame because the pace was there, he was really competitive and ready to attack the group in front which was slightly slower at that time. The rider is fine, everything is ok, but unfortunately he goes home with zero points from this Sunday.

Race 2: 
P 1   A. Bautista   21'43.781
P 2   T. Razgatlioglu   + 1.218
P 3   X. Vierge  + 3.050
…
DNF   P. Oettl  

Now the Superbike stops for about a month and a half, it will be back in Assen, Holland, when the European season begins. The Go Eleven Team must carry the excellent Phillip Island Round in its luggage and this Sunday in Mandalika, where it was able to regain speed, however, following a difficult weekend. Obviously the expected results have not arrived here, but the important thing is to demonstrate growth and improvement. In today's two races, Philipp clearly improved the fourth sector, thus managing to be more competitive throughout the track!

Philipp Oettl (Rider):"We had just short races today! In the Superpole Race my feeling became good, way better than the two days before, I improved the last sector compared to the previous days, I realised I could have had a really strong pace for Race 2. Then in Race 2 Van Der Mark crashed just in front of me, his bike flipped everywhere and it fast slowed down, I was in his group and I couldn't avoid his BMW. I am fine, but I am a bit disappointed. It's a pity cause I was in a good position. We come from two race weekends; one was great, in the other we struggled a bit, but we found our way.  We continue working and we can't wait to be back in Assen!"

Denis Sacchetti (Team Manager):"Today, despite the final result not rewarding us, I'm happy with how the Team and Philipp reacted. We took an important step forward, but we weren't lucky. In the Superpole Race, the red flag and the restart penalized us, because Philipp had a good start, and was fighting to conquer the first three rows of race 2, while in the second race Van Der Mark crashed right in front of us, and we couldn't avoid his bike. Luckily Philipp is fine and hasn't suffered any trauma. Now let's look ahead, we go back to Europe and I think there is everything to have a good championship".