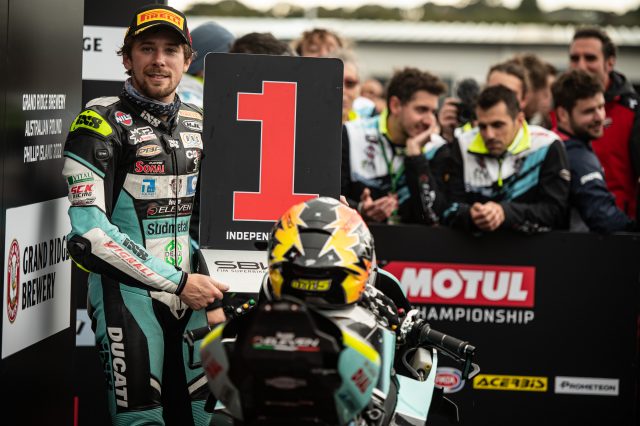 AT THE VERY LAST! At the last race of the season Philipp Oettl and the Go Eleven Team achieved the Best Independent Rider at the end of a great performance on a dry track, and a good battle with Axel Bassani and Micheal Rinaldi!
The Warm Up starts in complete dry conditions; Philipp immediately feels good again. He makes ten laps, all on the low 32, revealing himself as one of the fastest on the track as race pace.

Warm Up:
P 1 J. Rea 1.31.062
P 2 T. Razgatlioglu + 0.131
P 3 A. Locatelli + 0.342
…
P 7 P. Oettl + 0.941
Shortly before the Superpole Race, a heavy storm, with strong gusts of wind, hit the Phillip Island Circuit. Just ten minutes after, the sun returned to warm up the Australian track. As learned yesterday, the track dries very very quickly. Philipp opts to start with the Rain tyres, mindful of the lack of grip in the first laps of Race 1. In the Warm Up lap he decides to return to the pits, where a possible switch to intermediates had been agreed before the start. Rear intermediate on, he is thus at the rear of the group; perhaps the race for the Top 9 is already far off, but in any case the German rider struggles to find a good feeling in this mixed configuration and is forced to finish the race without being able to fight. Three positions lost on the grid for Race 2. In this Race, the mistake was much more clear than yesterday, unfortunately long stretches of track were completely dry, so much so that the very courageous winner, Alvaro Bautista, was equipped with Slick-Slick.
Superpole Race:
P 1 A. Bautista 16'11.935
P 2 T. Razgatlioglu + 3.285
P 3 J. Rea + 3.328
…
P 16 P. Oettl + 40.015
In Race 2 Philipp manages to get the long-awaited result; he is Best Independent Rider at the end of a hard-fought Race 2, always battling with Axel and Michael. The best race of the season, perhaps, together with those of Barcelona, set at a very tight pace of the low 32, with a good battle with the Italian from the Motocorsa team. At the end, just when Philipp was looking for an opportunity to attack Michael, the race was interrupted by a red flag caused by an accident in turn 1. Seeing the Go Eleven bike again in parc fermé is always a thrill, above all because many times it was a possible goal, but escaped for a thousand reasons. Well done Philipp, great race from the start to the finish!
Race 2:
P 1 A. Bautista 27'08.334
P 2 J. Rea + 0.357
P 3 A. Lowes + 1 sector
…
P 8 P. Oettl + 2 sectors
A nice end to the season that kick ourselves even a bit more due to some missed opportunities over both the entire season and the Australian Round. But it is Philipp's debut year; he has shown that he really has great speed and potential, and all the Go Eleven staff are firmly convinced that he can only improve in the seasons to come. In this Round he has never come out of the top 8 positions in the dry sessions, also demonstrating great constancy and a Top Rider working method, always alone and concentrated. It's a shame about the mixed race conditions, but that will be an area to work on next year. We can't wait to get back on track, and the 2023 debut will be right here at Phillip Island!
Philipp Oettl (Rider):
"After a disappointing Superpole Race finally we had a really good race 2! Best Independent for the first time this year. I was happy with the bike, my feeling was good in all the dry sessions, in Superpole, too. The race was red-flagged with 4-5 laps to go, I think I could have made a bit of progress, but I am happy with the result. This weekend we did a good job, but we didn't show our real potential in all the races, so i am half happy, half disappointed for the lost occasions. I am happy for the Team, because they deserve it, now we have a bit of rest, but in two months we will be back on the bike for the winter tests!"
Denis Sacchetti (Team Manager):
"The result we had been chasing since the beginning of the season and which we deserved has finally arrived, the whole team and Philipp deserved this award, too many things took us out of the opportunity to constantly fight for the Best Independent. We were always fast, and we worked well, growing continuously, beyond the final result. I'm therefore very happy, it was important to end the season in this way, it certainly raises the motivation for 2023! Today in race two, Philipp did nothing wrong, and in the last laps he could have even tried to attack Rinaldi, but we're already happy like this. Thanks to everyone, to every single member of the team, to our sponsors, fans and supporters, thanks to Philipp and Peter Oettl, thanks to Ducati! It was an exciting season, but we will leave with the aim of improving on this year's results and fighting for the Best Independent!"