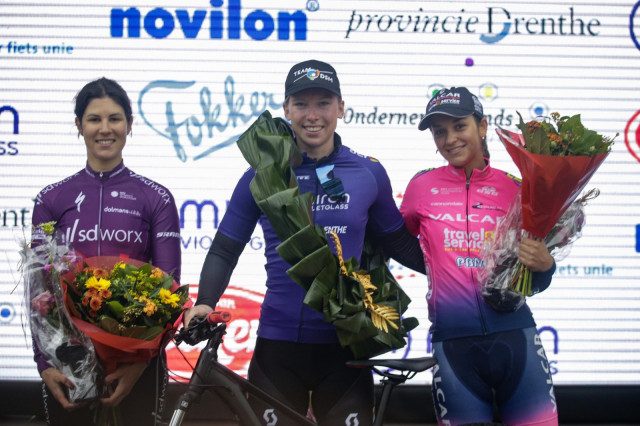 Seventh consecutive podium for Valcar – Travel & Service in a UCI race: and it is once again Eleonora Gasparrini who signed it. The nineteen-year-old conquers her first career podium in a World Tour race such as the Ronde van Drenthe. An amazing race for the young Piedmontese who in the last two races of the year proves to be able to match and compete with the best athletes in the world.
The race has been conducted with no mistakesby the girls directed by the d.s. Davide Arzeni. Throughout the day, in fact, the fuchsia are seen forward with the attack of the French Margaux Vigié and are present in the final match with Chiara Consonni, Eleonora Gasparrini and Ilaria Sanguineti.
The hard tear on the pavé to be repeated several times selects the leading group; Eleonora Gasparrini manages to keep up with the best and to compete for the final sprint of the small group. The winner is Lorena Wiebes who puts the wheel in front of Elena Cecchini; on the podium also Eleonora Gasparrini who gives to Valcar – Travel & Service two enormous satisfactions.
The first satisfaction is a great little record in the history of the Orobico team. In fact, no athlete in the 1st year of activity among the elites had managed to conquer a podium in a World Tour race. The second satisfaction concerns the current season. With Eleonora Gasparrini's third place and Chiara Consonni's ninth place today, Valcar – Travel & Service becomes the best Continental team in the world in the UCI ranking this season: the best way to convey the COMI's brand globally.