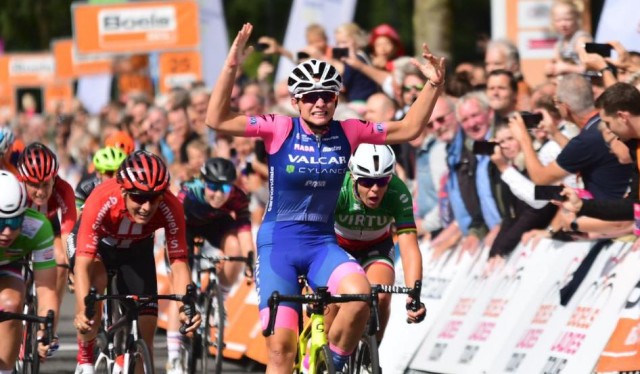 A success wanted and sought from the first day she began in Elite cathegory: the joy of Chiara Consonni explodes in Holland, where the young girl of Valcar Cylance reaches the goal in the 5th and last step of Boels Ladies Tour, a step race of UCI Worl Tour calendar. Chiara made a wonderful sprint, 20 years old, the best one in the last 250 m: in an incredible way she overtakes the Dutch Wiebes and Brand and the Italian championship Bastianelli. For Valcar Cylance, leaded by Davide Arzeni, it's a special day, finally a victory which witnesses the team value, which in these years was able to collect important results. We also have to underline the performance of Elisa Balsamo: 5th place in the second step, 2nd place in the special classification of white shirt.

VECE ITALIAN CHAMPION
The tricolor dresses Miriam Vece. The girl shows up herself winning the Italian Championship on speed track in the cycle track in Fiorenzuola D'Arda (PC). The Vece in the finale beated in two set Elena Bissolati duplicating the success she obteined the last year in Vigorelli, Milan. For Miriam this is the 6th tricolor shirt conquered in her career.