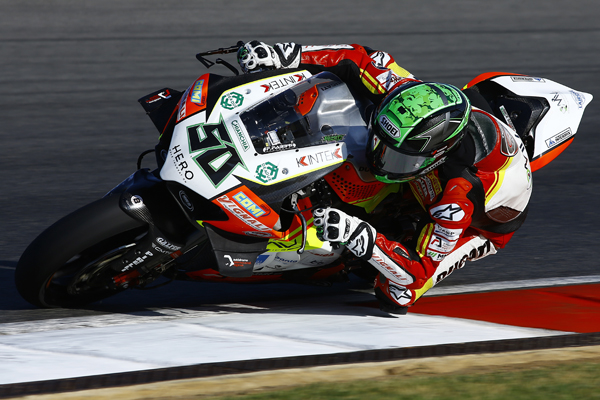 The up and down track of the Algarve does not smile on the Go Eleven Team and its rider Eugene Laverty. Arriving in Portugal with the best expectations after the more than positive summer tests, the changed conditions of the asphalt created problems the Ducati Panigale V4-R prepared by the Piedmontese Team. Sunday morning was opened by an encouraging Warm Up compared to the Saturday Race. Eugene managed to get close to the top riders, just 3 tenths from the Top 4.
As the temperatures rose, the usual problems encountered all weekend came back. No grip at the rear and great effort to make the bike turn in the middle of the corners, especially in the second and third sector. However, Eugene tried to stick to the front group, but also because of a bad start and a couple of seconds lost in overtaking, he didn't go beyond fifteenth position. The race pace was worse than the expectations created by the warm up and it was not possible to enter the first nine, to take advantage of the grid changes.
In view of race 2 the Go Eleven technicians have tried to improve the balance of the bike, to increase the ground contact of the rear tyre. Unfortunately the changes did not improve the situation, and for Eugene it was not easy to manage tyre drop. Towards the middle of the race he seemed to be able to close on the official BMW of Reiterberger, but an error pushed him away, managing then to draw closer to the final but without gaining positions.
The Go Eleven Team never gives up, neither Eugene Laverty does; certainly the regret for this stage remains, but in the last three races we will do our best to return to entertain the public, to put the Panigale V4-R red, yellow and white where it deserves to be!
Next event: Magny-Cours, France, September 27-29.m, COMI guest have been nevertheless enthusiast e ha saputo coinvolgerli durante tutto il weekend di gara grazie ad iniziative quali photoshooting con i piloti e signing sessions.
Eugene Laverty (Rider): "Another difficult day! The Superpole Race was though, I ended in 15th position, and in the main Race, Race 2, we had still no grip. I couldn't stop the bike and couldn't take the gas to exit the corner. So it was really difficult!
A weekend to forget and now we look forward to Many-Cours. I'm disappointed because I love this track and I can always be strong here, but this weekend we had no rear grip, it was impossible to fight for the top."
Denis Sacchetti (Team Manager): "After the tests done here at Portimao, just 15 days ago, the ambitions of the weekend were very different! The conditions of climate and temperature of the asphalt have not changed, so we cannot understand what this deterioration in performance is due to. We couldn't be able to replicate the good feeling that Eugene had during the tests. Needless to hide, these are certainly not the results we aspire to, and we will be working from tomorrow to return competitive to Magny-Cours."